Crime
Traffic Worker Dies
The death of an overnight traffic management worker in Melbourne has led to union demands for safer working conditions.
A 58-year old man from Boronia was killed after being hit by a Toyota coupe in Clifton Hill while working near the Eastern Freeway.
Safety cones were installed in the area to protect traffic from the utility vehicle as it was parked on the side of the road.
The 58-year old man was struck by a Toyota sedan at 12.15am. Police believe the driver may have been speeding.
Jade Campbell, from the Australian Workers' Union, told the media that the industry is both saddened and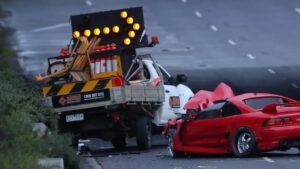 angry about the death. She said it was "completely preventable".
The accident occurred as the speed limit was changed from 60km/h to 100km/h.
Campbell stated that traffic controllers are among the most vulnerable road workers, as near-misses occur every day.
They are the first to arrive and the last to leave. She said that they are the lowest paid on a site and have the most difficult job.
"They are closest to death, but they have to ensure everyone's safety."
"I used to be a traffic control for many years. There wasn't one day where I didn't almost die."
Campbell asked why the man was working in such "dangerous conditions" by himself.
She said, "He was near the entrance of a highway. He should have used a truck mounted attenuator. He shouldn't have been driving a ute."
"It shouldn't have happened. Every single death we have had due to traffic management was avoidable, but it still happened."
He should have had an entire team. "As far as I'm aware, there wasn't much there."
The senior sergeant Christian von Tunk, told that the sedan lost control and hit the barrier multiple times.
He confirmed that the 27-year old driver had been tested for drugs and alcohol, but stated that early investigations indicated that alcohol and drugs were not factors.
Tunk stated, "As he lost his control, he unfortunately collided with a roadworker inspecting a pole on the left side."
Since then, the outbound lanes on the Eastern Freeway under Hoddle Street have been reopened.
The man was treated by emergency services at the scene, but had to be taken to Royal Melbourne Hospital in Melbourne where he died.
The collision could have been caused by "wet and slippery" road conditions, as well as a perceived speed. This was the statement of Detective Sergeant Luke Miller to reporters on the scene.
The National Highway Traffic Safety Administration (NHTSA) has issued a warning to motorists about the extensive road closures that will continue through Wednesday.
Victoria Police stated that the Eastern Freeway would be closed while investigators processed the scene.
The crash has also affected public transport routes.
The driver has been assisting the police in their investigation.