Detectives from the Port Phillip Crime Investigation Unit have arrested two people after an incident that occurred in Balaclava on yesterday.
A 41-year old Bentleigh man has been charged with multiple offenses including:
* Possess a quantity of firearms that is traffickable
* Two counts of prohibited persons possessing a firearm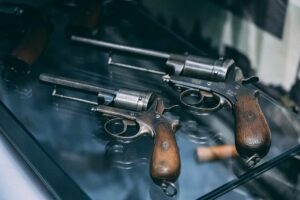 Illegal possession of imitation firearm
* Possess ammunition without a license
Two counts of theft of motor vehicles
* Failure to stop at police request
He was ordered to appear in the Melbourne Magistrates' Court, on 1st March.
A woman from North Melbourne, aged 21, was charged with thefts of motor vehicles and boats.
She was released on bail to appear at the Melbourne Magistrates' Court 16 May 2023.
Charges were filed after initial reports that two people attempted to steal a vessel in Westbury Close shortly before 7am, on 28 February.
The vehicle allegedly towing the boat reportedly crashed into several vehicles before being abandoned at Raven Grove.
Two people were arrested nearby by the members.
Anyone with information, dash cam footage or who has witnessed these incidents is encouraged to contact Crime Stoppers at 1800 333000.
This material from the originating organization/author(s) might be of the point-in-time nature, and edited for clarity, style and length. Railed.News is not an institution and does not have a position. All views, opinions, and conclusions are those of the authors.