Crime
RSPCA Inspectors seize 29 puppies
RSPCA Inspectors seize 29 puppies found at a puppy farm in 'unsanitary and unsafe conditions'
As part of a suspected illegal breeding investigation, 29 dogs and puppies were seized in Victoria's Macedon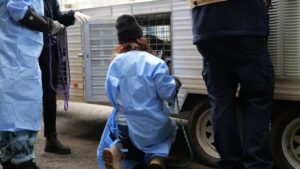 Ranges. The RSPCA described the conditions as "horrible".
Labradors and golden retrievers were among the breeds that were removed on Monday. Corgis, Poodles, poodle crossbreeds and Schnauzers also made the list.
Senior inspector Shannon Walsh, a member of the RSPCA Victoria's major investigation team, said that the animals had been "housed in unsanitary and cramped conditions on the property".
Inspector Walsh stated that some animals were deprived of water and shelter.
A tip-off enabled the RSPCA's major investigations team to execute a search warrant.
The RSPCA inspectors, along with staff from Macedon Ranges Shire, seized the dogs as part of an ongoing investigation into a suspected network of illegal dog breeding.
Over the course of a major investigation that is still ongoing, 51 dogs and puppies were seized. The investigation is spread out across several municipalities, and the work continues," Inspector Walsh stated
The investigation was part of a major ongoing investigation into an illegal network of dog breeding.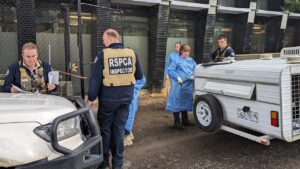 Investigations continue and charges are still pending.
The Domestic Animals Act could result in thousands of dollars fines and/or jail time for the offender.
In the last two weeks, the RSPCA Victoria Inspectorate brought in more than 100 dogs to the Burwood shelter through seizures.