Crime
Hunter Valley Bus Crash kills 10
Hunter Valley Bus Crash kills 10. Ten people, most of them young, died in the worst bus crash in Australia in recent decades.
KEY POINTS
The families, friends and sports clubs of the 10 victims killed in a bus accident on Sunday night have paid tribute.

The victims are remembered for their youthfulness and promise.

NSW Premier Chris Minns announced a donation of $100,000 to a fund that will benefit survivors, victims, and their families.
This text contains images or references to a deceased Indigenous/Torres Strait Islander/Aboriginal individual.
Brett Button (58) was granted bail Tuesday morning. He left the Cessnock Police Station several hours later. He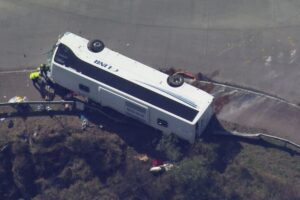 was charged with 10 counts for dangerous driving resulting in death and one additional count of negligent driving.
Button walked quickly to the car that was waiting at the rear of the station. He had the hood of his jumper tightly wrapped around his face.
Families and communities are mourning the loss of those who were killed in one of Australia's worst buses crashes. They remember them as young, vibrant people with a promising future ahead.
Singleton, a small town in the Hunter Valley, is still reeling from Sunday's deadly crash that claimed ten lives. Most of them were young people and seven of them were locals.
The victims included a junior doctor, husband and wife, and mother and daughter who all died on their way back from a wedding held at the Wandin Estate Winery Lovedale.
Many of them were connected to the Singleton Roosters football club, but others had ties to other communities in Australia.
Nadene McCBride who coached Singleton Roosterettes and her daughter Kyah, 22, who played for the team, were two of the victims.
Graham "Banger", the father and husband of Graham "Banger", remains in hospital as he comes to terms with his death.
The McBride Family released a statement saying that "there are no words" to describe their grief at this time.
Kane Symons was also killed in the crash. His former Tasmanian Carlton Park Surf Life Saving Club remembered him as a keen surfer, a remarkable surfer and a true friend.
In a statement, club president Christine Gaby stated that Kane's infectious energy, positive attitude, and constant encouragement left an indelible impression on the club. His loss will be felt by everyone who had the pleasure of knowing him.
Andrew and Lynan, a husband and wife from Singleton who both played on Singleton Roosters' teams and had two children left behind them, were also killed.
Tori Cowburn was also killed. She played tennis, basketball, netball, touch-football and captain of the Roosterettes.
Darcy Bulman (30), an investigator with the Australian Securities and Investments Commission (ASIC), travelled to Melbourne from Melbourne, along with her partner, for the wedding festivities.
Her partner, who is also believed to have been injured, was also tragically killed.
Rebecca Mullen was a Junior Doctor and Singleton Local working at Calvary Mater Newcastle Hospital. She was one of the young victims who could not be saved.
NSW Health Minister Ryan Park stated that Ms Mullen was too young to have a "long, illustrious and successful career in medicine".
On Tuesday, Mr Park told journalists that "this has made an already dark day for NSW Health even darker."
Zach Bray, a Hunter Valley mining engineer who had survived bowel cancer and was also killed, was also one of the victims.
Adam, Adam's father, who is originally from Sydney's Northern Beaches, expressed his pride for his son.
He wrote: "Zach Bray… you have become a great man in all possible ways, proud is not even close," on social media.
Angus Craig was also killed in the crash. He had been an engineer with BHP Queensland.
In social media tributes, friends described him a 'beautiful man' who had "the whole world ahead of himself".
The community came together to mourn their losses and show their support at the Singleton Baptist Church vigil on Tuesday night.
Owners of local hotels are now offering accommodations to families of victims, as many will need extended stays.
The bus driver Brett Andrew Button (58) appeared in Cessnock Local Court Tuesday and was charged with ten counts of dangerously driving and death. He was released on bail.
On Wednesday, NSW Premier Chris Minns paid a visit to the rural town in mourning to lay a floral tribute and announce a donation of $100,000 to a fund to help survivors, victims, and their families.
Visit if you want to donate money to help the injured and their families.
The Singleton Roosters football club started a GoFundMe to raise money for families. After raising more than $100,000, the club said that any additional donations should be made via the Rotary website.
Griefline offers confidential support via 1300 845 7545 and